Ever since I got the Z (Nikon Zfc), I've fought with it. It has autofocus, but only with lenses made for it. With the older (but only slightly) F-mount lenses I got with the Df, it can only be focused manually. Good thing I got the FTZ adapter, or I couldn't mount the lenses at all. So I resolved to buy some lenses made for the Z. This last week, I ordered five. One is on backorder. Here are the others.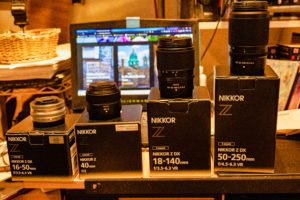 This is the last picture I intend to take with the Z and an F-mount lens. My point of having two cameras is to make it easier/faster to switch lenses for different shots. These extend my range from the equivalent of24mm to the equivalent of about 350mm. (And, of course, I can mount  the 500mm using the adapter, but it's ALL manual.)
(The reason for this is that the Z has a smaller sensor — about half the size of the Df. In certain cases any focal length of lens acts like a longer lens. E.G.: a 300mm Z lens is equivalent  t0 a 450mm F lens. Makes it easier to reach out and grab an image. The sensor has the same number of megapixels as the Df, so, for my purposes the image size is the same for either camera's sensor.)
This should lead to some exciting images, so stay tuned.