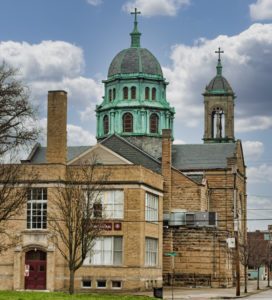 This is the church I call St. Elizabeth through the Trees. It's on Carter Avenue in Norwood, Ohio. St. Elizabeth is its original name. I get the impression from signage that the structure has been taken over by one of those mammoth, multi-location megachurches. Good, I guess. I mean, sad that the Catholic congregation is not longer meeting there, but it's good that the church is still being used for worship and ministry.
Shot from south of the church, looking along Carter toward Mills. The building in the foreground is the primary school that served the parish.
Tech: Camera, Nikon Z fc. Lens, AF Nikkor 28-105mm 1:3.5-4.50. The reported focal length for 35mm film is 69mm, which is about in the middle of the lens's range. 1/250 sec at f10.
Post: Photoshop, (of course), Camera Raw filter. Color to 6500k, exposure +.5, I guess. Texture, Clarity, Dehaze, Vibrance set to +30-32. Photolemur 3 automatic. Luminar AI to provide sky.